Pricing is based on a minimum of 6 guests and can be picked up at our retail store in Hillsburgh.
Additional fees for:
Rentals of buffet or other equipment
Full service onsite catering by our professional staff and bartenders
Delivery is available in Erin, Hillsburgh, Ballinafad, Orangeville, Caledon, Georgetown, Rockwood and Guelph.  $30-$60
All orders are subject to 13% HST, a 3% service fee and 15% gratuity.
All meals come with our recommended dishes OR you can substitute your choice of one salad and one other side dish for $3 per person. Add a third FanJoy salad or side for an additional $5 per person.
FanJoy Salads
(choose one)
Seasonal Organic Garden Salad
Mighty Caesar Salad
Thai Indo Fusion Coleslaw
Creamy Potato Salad
FanJoy Sides
(choose one)
Basmati Rice
French Fries
Seasonal Medley of Vegetables
Garlic Mashed Potatoes
Browned Butter Sage Mashed Potatoes
Signature Side Dishes
(add $3/person)
Spinach and Arugula Salad
with strawberries, chevre, pecans and chocolate raspberry vinaigrette
Sweet Potato Fries
Gourmet Onion Rings
Fruited Organic Wild Rice Salad
Download our FanJoy Catering Meal Options as a 4 page PDF file to print out or view later so you can start planning your requirements.
AUTHENTIC BUTTER CHICKEN
$23.95 per person
Our number 1 seller and Chef Pam's award winning dish on Chopped Canada Season 3 (2016). This delicious chicken breast dish brings the flavours of India straight to your table. Served with Basmati rice, garden salad and Naan bread wedges.
MOROCCAN CHICKEN
$23.49 per person
Second only to our Butter Chicken, this delicious alternative boasts dark chicken meat with a tomato based sauce that will take you to northern Africa; boasting flavours of sweet currants, cumin, cinnamon, cloves and peanuts. This is a popular choice for crowds as the flavour is impactful but suits most palates when you aren't sure what will please the whole group. Served with rice and garden salad.
PRIME RIB ROAST BEEF DINNER
$29.95 per person
A classic family favourite, our AA+ locally raised Wellington County Roast Beef Dinner has the classic accompaniments including Garlic Mashed Potatoes, Yorkshire pudding, house made beef gravy, seasonal vegetables, Dijon mustard and horseradish.
ST. LOUIS STYLE RIB DINNER
$18.95 per person
Enjoy a half rack of pork ribs with your choice of classic BBQ, Thai or Hot & Spicy sauce, served with fries and our organic seasonal garden salad.
Add ¼ roasted chicken for additional $6.95
Cordon Bleu CHICKEN BREAST WITH HAM & Bio Organic Swiss CHEESE
$19.95 per person
5 oz. boneless breast stuffed with locally sourced Black Forest Ham and Swiss Cheese – nitrate and gluten free – topped with our house made chicken veloute sauce. Served with your choice of rice or Garlic Mashed Potatoes & our organic seasonal vegetable medley.
PAN SEARED Maple Glazed ATLANTIC SALMON
market price
Delivered fresh weekly our Atlantic Salmon has become a local favourite and now you can have it catered to order with our 5 oz. portion seared with fresh Herb Butter and served with your choice of Rice, Mashed or Rosemary Potatoes & our Seasonal Vegetables.
MEATY OR VEGETARIAN LASAGNA
$19.95 per person
A classic favourite for any occasion, our lasagna is made with fresh Queen's Pasta, our house made Italian style tomato meat sauce, and four types of cheeses. Our vegetarian option features spinach, sweet peppers and organic shiitake & Cremini mushrooms with a Béchamel Sauce. Served with Garlic Bread and our Mighty Caesar Salad.
*NOTE: Sold in either family size for 4 people or half pan size that feeds 9-12 persons.
BBQ PULLED PORK
$18.95 per person
Slow smoked for 12 hours and lathered in southern BBQ sauce, this classic is served with our freshly made rolls and your choice of french fries or our garden salad.
QUICHE

$20.00 serves 6
You've never tasted quiche like this before! House made pastry sets the stage for a variety of flavours you can choose from including Broccoli & Cheddar, Mediterranean (Olives, Sundried Tomatoes and Feta Cheese), Lorraine (Bacon, Onion and Gruyere Cheese), Ham & Cheese or Lobster during our June Lobsterfest promotion. Side dishes additional.
CANADIAN SHEPHERD'S PIE
$19.95 per person
The way grandma used to make with only the best of our CAB Wellington County Ground Beef, our house made gravy and topped with our Garlic Mashed Potatoes. Served with garden salad.
PASTA DINNERS
$18.95-$24.95 per person
Chicken Alfredo Penne       Penne with Meat Sauce
Shrimp with Penne              Penne with Butter & Parmesan
Served with Garlic Bread and Garden Salad or our Mighty Caesar Salad.
BEEF, TURKEY OR VEGETARIAN CHILI DINNER   
$18.95-$19.95 per person
A healthy and hearty option for any group or occasion! Enjoy our Chili made with your choice of protein, white or nine-grain dinner rolls with butter balls, and served with an organic garden salad with locally sourced and seasonal ingredients.
KID'S MAC & CHEESE MEAL
$12.95 per Child
A half pan of our classic Mac & Cheese. A favourite at any gathering, especially with kids! Half pan size serves 8-10 children.
KID'S Chicken Fingers Meal
$13.95 per child
2 pieces per person of our house made all white meat, all natural chicken fingers with crudité or garden salad & Plum Sauce.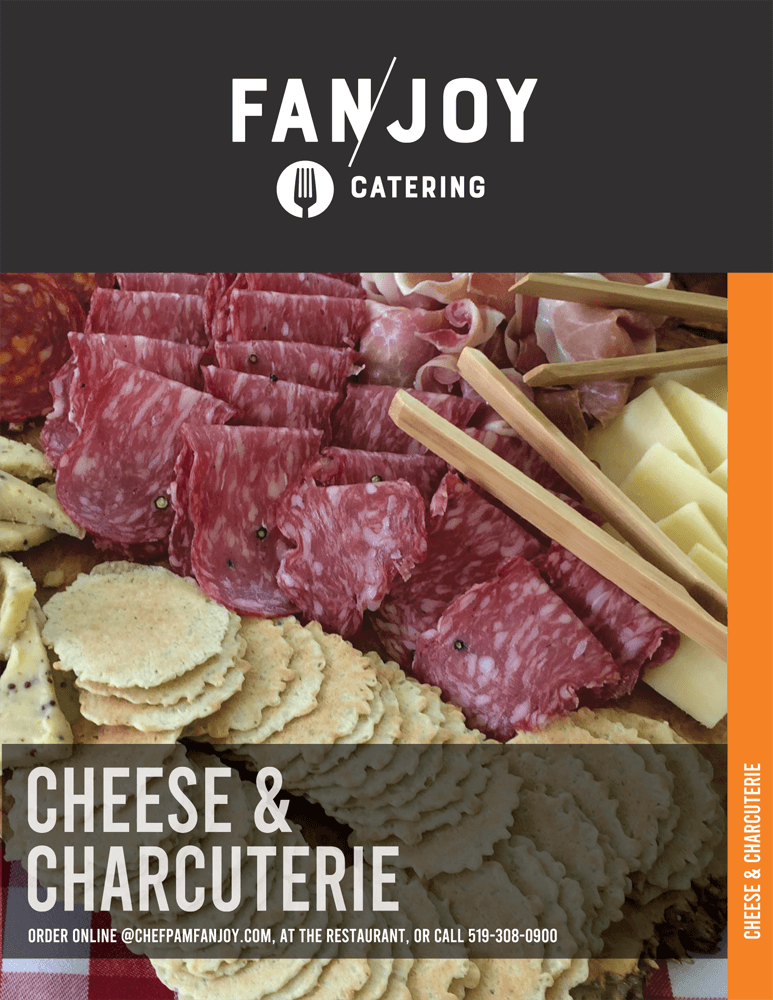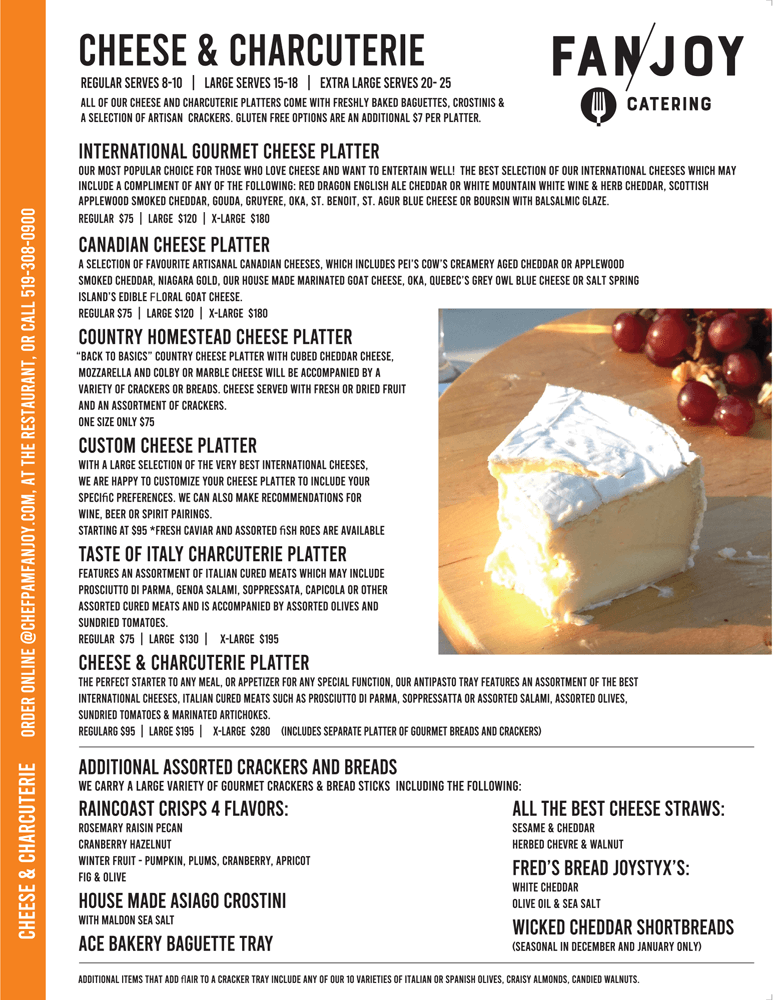 Inquire About Catering/PRIVATE RESTAURANT BOOKINGS