Pride Weekend of Music – June 21,22,23
In addition to the usual Friday & Saturday Live Music, we've added a Sunday Matinée appearance by Emily Gilbart to keep the good vibes happening for an extra day.
Live Music is a feature of weekend evenings at FanJoy that just keeps getting better and better, for the patrons and for the musicians.
We do not add a cover charge on music nights, but instead we encourage you to show your appreciation directly to the musicians and to your server.
For reservations call 519-308-0900
friday 21 june – paige warner
7:30 p.m.
Paige is skilled with more than just her voice, regularly accompanying herself with piano, guitar, or ukulele. 
You will find her musical styles of interest if you enjoy artists like Alicia Keys, Sabrina Claudio, Charlotte Day Wilson, and Daniel Caesar.
Sat. 22 June – JJ Millstone
6:30 p.m.
Lots of popular hits crossing the styles of Cold Play, Chris Izaak, Incubus and other hits of the radio waves.
R&B, Blues & Soul are their game.
Visit our LIVE MUSIC section to sample music by JJ Millstone and other artists playing at FanJoy.
Sunday matinee – 5 pm
featuring emily gilbart
Emily quickly established herself as a FanJoy favourite with her easy going style that fits the relaxing atmosphere
for an evening of drinking and dining.
Slide through these performances recorded at Fan/Joy. We give elbow room to musicians and patrons alike. Seating can be as close up or as far back as you prefer, all in sight of the performers, since you'll find this is a place for people to come and be welcome to interact with the musicians.
Anyone remember "Music Appreciation?"
That's one of the reasons we're hearing from musicians looking forward to return performances. The awesome meals we serve them might have something to do with it too.
< SCROLL ABOVE CHOOSE SAMPLE MUSIC VIDEOS >
Live Music at Fan/Joy is a close up, friendly experience where we strike a balance between letting you be totally entertained by the musicians, while keeping it where you can have a conversation across your table while you dine.
Music starts at 7:30 p.m.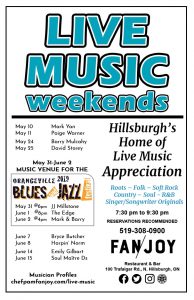 MAY & JUNE
SCHEDULE POSTER –
VIEW WITH
A CLICK HERE
Click any image below for more… bios, pics, videos.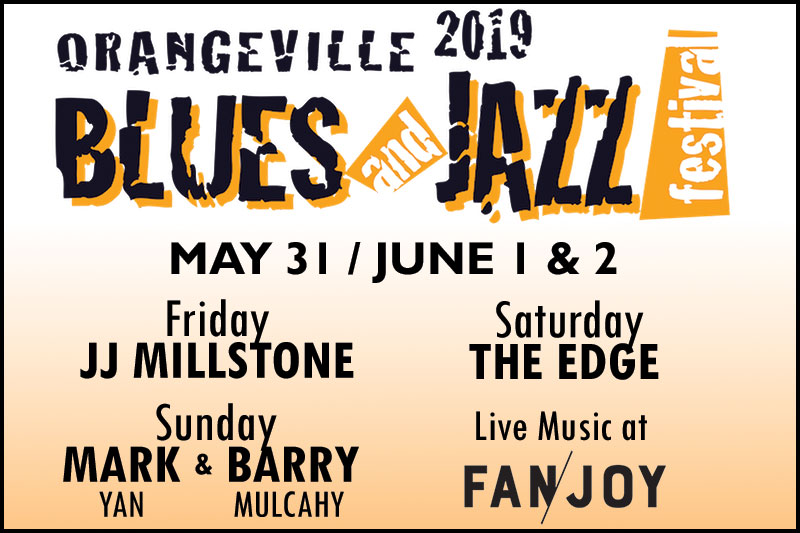 MUSIC VENUE FOR THE OBJF 2019
3 DATES OF LIVE MUSIC.
100 TRAFALGAR RD. HILLSBURGH
RESERVATIONS 519-308-0900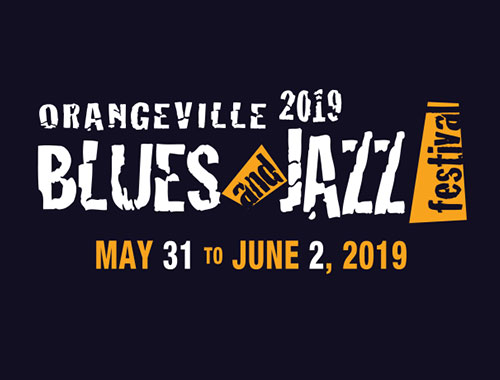 2018 was a blast so we're looking forward to this year's OBJF, with the addition of JJ  Millstone to the mix, kicking things off for the Friday. The Edge return for Saturday night and the harmonies of Mark Yan & Barry Mulcahy play us out on Sunday.
15 MINUTES FROM ORANGEVILLE
10 MIN. or less from Erin.
Generous parking space.
Great menu selections and local craft brews on tap.
LIVE ENTERTAINMENT
Fill your ears with real, live music. There's nothing else like being in a place where musicians feel the vibes coming back from an appreciative group of people in close surroundings.
Music Videos (Youtube)