Foods of the World
FOODS OF THE WORLD
(4 Regions in the series)
Greece – Latin America – France – Mediterranean
$99 + HST per individual class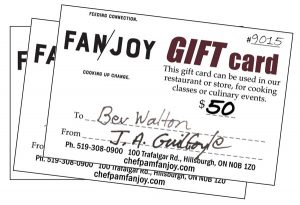 You can buy/use FanJoy Gift Cards for yourself and others to pay for all or part of class registrations.
Individual classes may be registered for, if space is available.
Cost includes sampling during the class and a take home meal.
Dates: Sundays – Jan. 20; Feb. 3; Feb. 10; Mar. 3
Time: 5:30 – 7:30 pm
Enjoy recreating those international flavours and textures you love so much, in the commercial kitchen of Fan/Joy.
Then turn yourself loose to cook and serve these same dishes to your guests at home.

COOKING CLASS POLICIES:
A minimum of three people pre-registered, to a maximum of six people for a class to be run.

Classes will be cancelled by noon of the prior Friday if there are not enough attendees to run.  

Fees for classes run are non-refundable and classes are non-transferable.  

During the winter months, classes may be rescheduled if weather is poor, as determined by public weather advisories.
Any cancellation will be posted on our Facebook page and email notifications sent out.
No products were found matching your selection.