Jr. Chef Apprentice 1-on-1
Jr. Chef Apprentice 1-on-1
Individual, 1 child age 11 to 15, kitchen instruction with Chef Pam Fanjoy, MSW, RSW
$249 + HST per individual. Available alternate Wednesdays.
January 2019 is SOLD OUT. Now booking for February and beyond.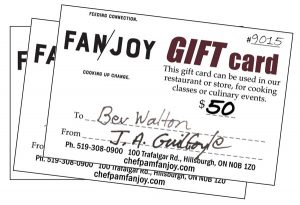 You can buy/use FanJoy Gift Cards for yourself and others
NEW Jr. Chef Apprentice 1-on-1 Private Classes for your favorite Jr. Chef! Our new private classes will take place every other Wednesday beginning in the new year.
Your Jr. Chef (age 11-15) will join Chef Pam in the kitchen at Fan/Joy Restaurant and learn how a real commercial kitchen runs during dinner service.
Also a Social Worker (MSW, RSW), Chef Pam not only teaches kids how to cook but also how to solve problems, cooperate with others and communicate effectively, all while building their own self confidence. Then they will dazzle our guests and jump right in hands on to run the kitchen during dinner service with our staff team!
Gift Certificates available for $249 + HST and includes their class, beginner utensils to start their personal knife kits & a hat.
Email Chef Pam, use our Contact Page or call 519-308-0900 to arrange an available 1-on-1 class date.
** This class may be covered under extended health benefits. Contact Pam for details.

Showing the single result